The MRC Policy and Guidance on Sharing of Research Data from Population and Patient Studies requires the production of periodic reports on the nature and scale of data sharing and an assessment of performance. A retrospective report on data sharing covering the period April 2012 to August 2013 was reviewed by a lead independent access advisor (Professor Cyrus Cooper, MRC Lifecourse Epidemiology Unit, University of Southampton) and an advisory committee made up of external members, in October 2013, in line with the periodic review of access decisions model described in the MRC policy.
Table 1 below shows an updated report covering the two years since the MRC Policy and Guidance on Sharing of Research Data from Population and Patient Studies was established and includes all studies for which the Unit has primary responsibility. The report covers the period April 2012 to March 2014 inclusive and the main features are summarized below.
For each study, the Table shows the total number of data requests made within the audit period and the number that were accepted, both as the total number and a percentage. A total of 375 requests were made and only one request was declined. This was on the basis that it lacked a prior hypothesis; the proposal was subsequently re-submitted in revised form as part of a wider collaborative analysis which was accepted.

As described in the Data Management Plan, all external data releases require completion of a Dataset Request Form and the forms are being implemented for internal data releases. The Table therefore also indicates whether the request was made formally using a Data Request Form (Formal Releases) or more informally (Informal Releases). Most releases (52%) followed a formal process. During the initial period of tracking, the formality of the data release request was not always recorded; such requests are shown as `unknown´ in the Table.

Of 375 release requests received within the audit period, 364 have been processed. Of those not processed, 6 are in progress and 4 were requests for re-use of existing releases for which no re-release was required. Of the 364 requests processed, 279 (77%) were for internal and 35 (10%) were for external use. As noted above, in the initial period of tracking less detail was recorded centrally and 47 (13%) releases are therefore shown as `unknown´. Releases to the EPIC-InterAct and ICAD consortia are shown as being internal since they are within the consortia but in practice this involves the receipt of applications and data transfer to collaborating third parties.

Data is made available on a versioned, release by release basis as new participants or data are added to the study. A significant number of data releases (112) have been updated to include new data.

No breaches of data security were recorded during the audit period.

An indication of the outputs and scientific opportunities arising from the released data is also provided. This uses the number of peer-reviewed papers specifically reporting use of the study data or meta-data that were published during the audit period as a proxy, as at the time of submission of this report. Publications are sub-divided into those with a Unit first author and those where the first author is external to the Unit in order to provide an indication of internally and externally led research. It is our intention in future reports to more specifically relate publications and other outputs to individual data releases and also to delineate the cost of the access and data preparation processes for external requests.
Table 1: Data release audit covering the period April 2012 to March 2014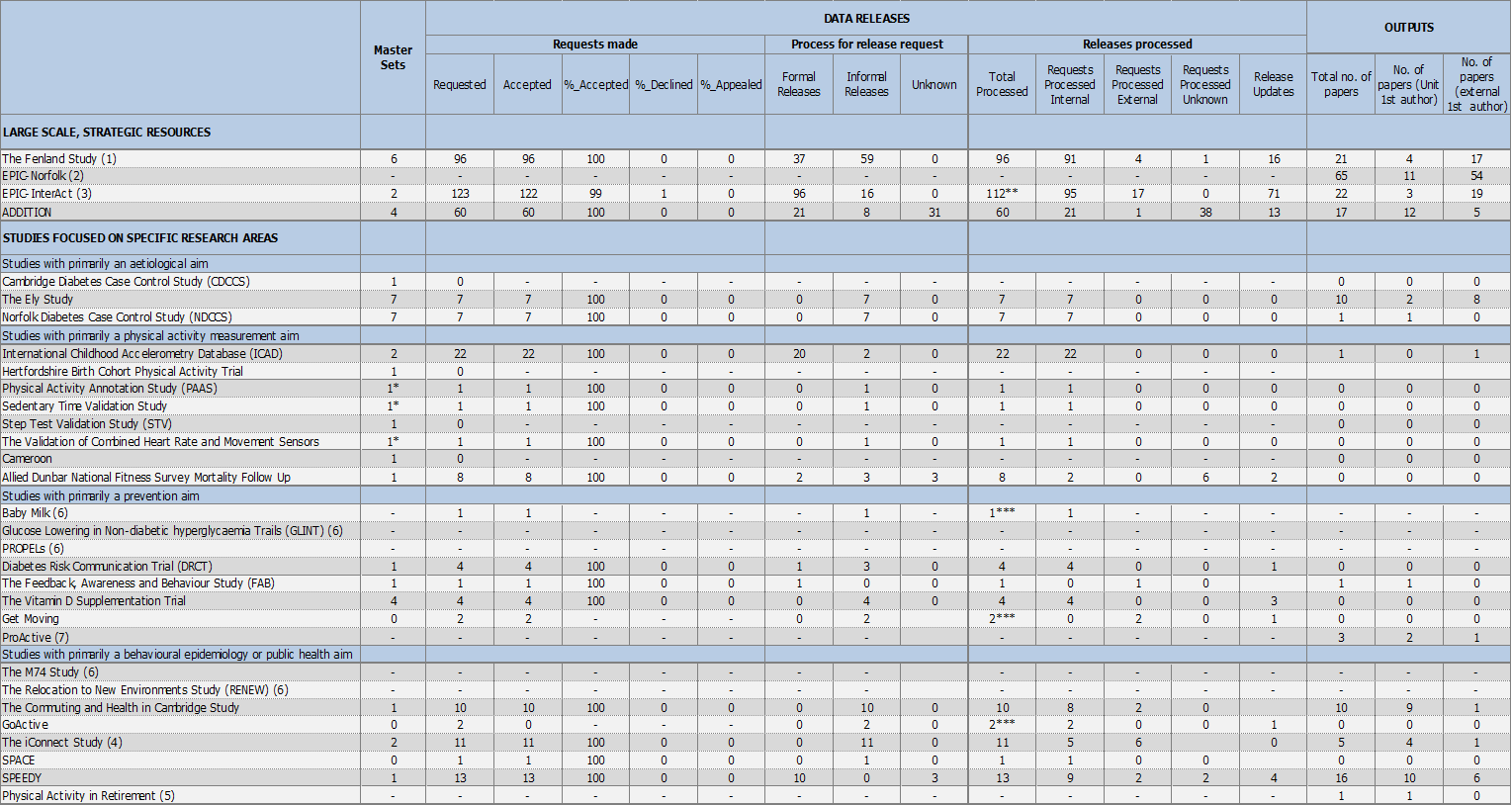 Notes: (1) Includes the Fenland Measurement Reactivity Trial, (2) Clinical Gerontology holds the dataset and is responsible for releases, (3) includes the EPIC-InterAct Physical Activity Assessment Validation Study, (4) includes iConnect Cheshunt, (5) Qualitative study (data held within programme), (6) recruitment in progress, (7) data held by the Primary Care Unit during period of audit (recently transferred to the MRC Epidemiology Unit). * Master released to the Physical Activity Technical Team for further use / release, ** 112 processed, 6 in progress, 4 requiring no data release, 1 not accepted, *** interim cleaning / validation release of data from data entry.
---
Information created: 8th May Apr 2014 by A Dickinson
Information last updated: 8th May 2014 by Adam Dickinson.